The foundation of Sansada was that of the Edo period in 1837.
For over 170 years since then, we inherit the oldest goodwill as tempura.
The first generation, Sadakichi, took over from Mikawa (present Aichi prefecture) on Tenpo's second year, seniors of the same village, later took a tempura stand in front of Ningyocho's home, Mikawaya Sadakichi, That is, it became Sansada.
Features of Edo front tempura
Tempune tempura is so-called Edo-mae tempura.
Tempura that SADAKICHI sold at a stand was said to have been popular with people of those days, coating with mixed ingredient on small fish etc. fried with sesame oil.

Today we also strive to have tempura with rich flavor of sesame oil. Edo-mae tempura using sesame oil has brown color in clothing. Tempura fried fresh material with our own sesame oil has a rich aroma and light chewiness.
Please enjoy it with radish and special specialties.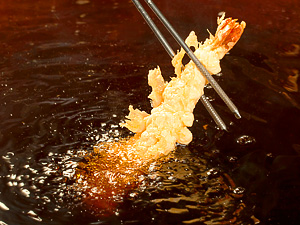 Thank you for seeing our website.
Sansada is the oldest tempura shop in Japan. While cherishing the tradition of Edo, we have kept in mind that we can respond to the needs of customers who move.

This is simply due to the Sansada's rule that the owner of the store must stand in the kitchen without fail.
Since our establishment in the Edo era, we have kept this owner's chef system on their behalf.
We only have a shop of Kaminarimono, so that shopkeepers will not take their eyes off the shop.

We will continue to protect the culture of Edo while treating our customers' opinions. Please continue your patronage.






Shop Owner
Kaoru Sanada